Topic
Power Hour – Live Q&A with Niraj Naik – Founder of SOMA Breath – Tuesday March 28th at 10am ET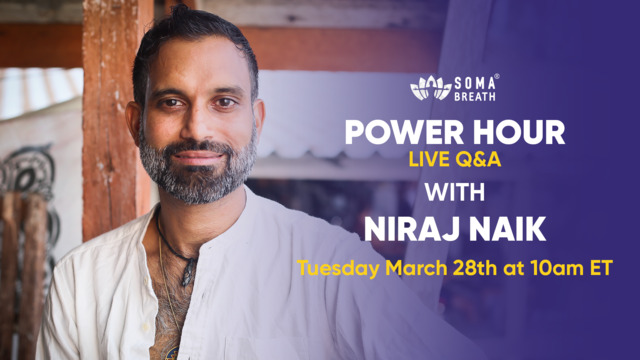 POWER HOUR LIVE Q&A
Instructor name: Niarj Naik
Level : Founder of SOMA Breath
Date : March 28th
Time : 10am ET / 3pm UTC
This session will be hosted through ZOOM
Description Of This Event:
This is your chance to ask Niraj directly ANY question you may have related to health, wellness, meditation, breathwork, spirituality and even success, career and marketing advice.
It's a great opportunity to learn directly from the source. You can also understand what YOU can learn in deeper SOMA Breath programs such as the 21 Day Awakening Journey and the Transformational Coach Certification.
About Niraj:
Niraj Naik is a certified UK pharmacist turned holistic wellness, brain-training and breathwork expert. He is one of the world's most sought-after spiritual ceremony facilitators and leads breathwork workshops around the world.
His journey started amid a "burnout" in his corporate career when he found himself bedridden with chronic illness for more than a year. Healing himself using breathwork techniques and dietary adjustments, Niraj felt motivated to share his knowledge with others.
SOMA Breath, a global breathwork community, was founded by Niraj to help empower others to take charge of their own healing and wellness. He has also trained hundreds of breathwork experts through his SOMA Breath framework, which is also taught at numerous wellness centres in the US, Europe and Asia.