Topic
Part 3: Intention Phase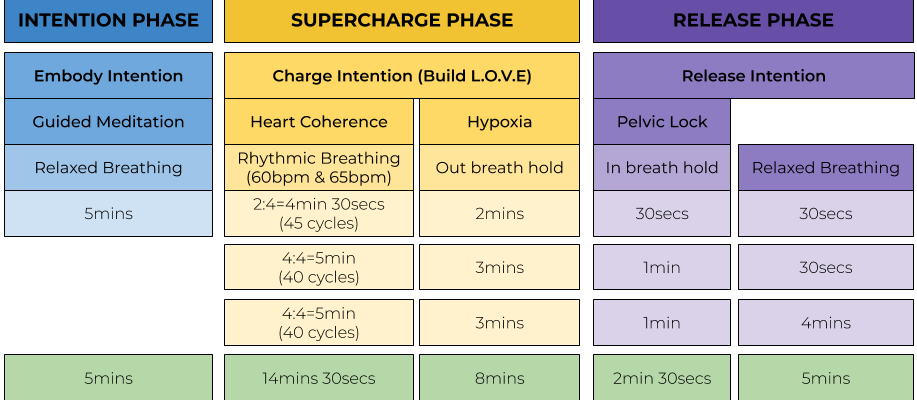 The purpose of this phase is to get everyone into a relaxed state to bring their intention for the week into focus and to embody what they want to bring in to their life.
Watch the video of Intention Phase above
The script you use combined with the meditation music will help produce a relaxed 'alpha/theta brainwave' state which is ideal for creativity. It's a state not so deep that they drift off, but where they are still conscious enough to imagine and embody their intention within.
The Sequence:
Induction

Bring awareness to breath
Release tension from body with outbreath
Relax more with two AUM's

Set Program/Intention

Guide them to bring in their intention
Get them to embody their intention and turn up the dial.
---
Induction into relaxed state
This is to help get everyone prepared for communicating their intention to their subconscious.
Getting them to focus inward and on their breath helps to remove mental distractions so they will be more focused on the guidance.
Notice the use of voice in the induction part of the Intention Phase. A calming, relaxing voice.
If you are reading from the script that's ok, what is important is to practice projecting the feeling of relaxation in your own voice. Remember, you are their guide taking them on a journey.
---
Create an intention
An intention or 'statement of intent' should be focussed on a desired future state for the week that is beneficial to the individual's higher purpose and betterment. We want to help them create an imprint in their psyche of what they truly want. Yes it can be a material thing, a behavioural change, even an emotional release or letting go. A person can come up with an intention for themselves or a group can come up with a collective intention.
Example: "It is in my will to receive or to have 'x' in 'y' days"
The key is to focus on and imagine what you truly want!
not what you don't want.
---
Program their Intention
Once they are relaxed and have done their AUM's you will be guiding them into their intention as if what they are wishing to bring into their reality has already happened and they are living that moment right now. Most importantly is the focus on how good it feels, the feeling of gratitude for having what you want as this will start to raise their Level Of Vibrational Energy (L.O.V.E).
Now that you have an understanding of The Intention Phase let's take a look at the science behind it in the next section.
---
TIP: It would be helpful for participants to be prepared with their 'intention for the week' before the class. So remind them to think of what it might be next time on their way to the class.